Quartz Christmas Tree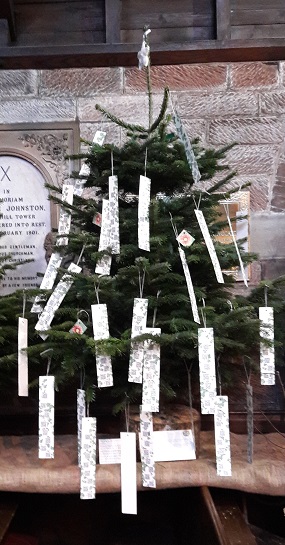 This tree was designed for the Dumfries and District Flower Club "Christmas Tree Festival" in St Johns, Dumfries.
A (very) wide selection of organisations from the town have adopted a tree to help raise funds for Aberlour "Scotland's Children's charity". The church building is packed with lights, decorations and many different takes on what a christmas tree can be.
Quartz has used it's tree to play with time and space, as well as combine the ancient symbolism of trees with digital technology represented by QR codes. IT hopefully looks attractive too! Click HERE for a more detailed explanation.
"Quartz" is a general term used to discribe many different activities. The QR codes on the tree are links to some of the ways in which the creative worship team has contributed to the life and worship within the St Johns building - and also in the wider community throughout Dumfries and Galloway.
If you make it to St Johns you can scan the QR codes and be taken to the web pages, but since you are here - follow the links!